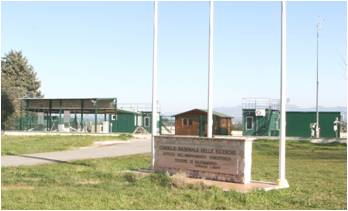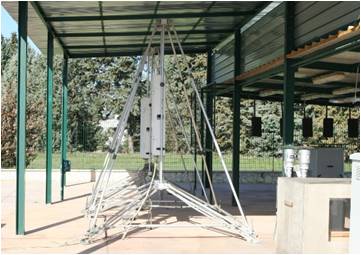 Monitoring Stations
There are three monitoring stations belonging to the Institute of Atmospheric Pollution Research:
%22A. Liberti%22 Monitoring Station
EMEP
CNR-IIA participate to EMEP program that is based on three main activities: emission data capture, assessment of air quality and wet deposition, development and application of pollutant transport and deposition models.
The present structure of EMEP network for air quality and wet deposition assessment is based on several participation levels:
Level 1 (mandatory parameters)
Level 2 (additional parameters)
Level 3 (super-sites research oriented)
"A. Liberti" Monitoring station  Measurement program:
Lev1:  NO2, O3  by means of continuous analyzers
Lev1:  Cl-, NO3- SO4=, Na+, NH4+, K+, Mg++, Ca++, ph, wet deposition conductivity
Lev1:  PM10, PM2.5 by means of continuous analyzers
Lev1:  Cd, Pb, Cu, Zn, As, Cr, Ni in wet deposition
Liv2: HNO3, SO2, NH3 mediante linee di diffusione (denuders)
Lev2: HNO3, SO2, NH3 by means of diffusion denuders
Lev2:   NO3- SO4=, Cl-, Na+, NH4+, K+, Mg++, Ca++, Si, EC/OC in PM10
EMEP Program Equipment
PM Sampler – ADAM C (PM 2,5)
PM Sampler- Hydra (PM10)
PM Sampler – SWAM (PM10)
Stability Monitor – PM10 TSP (PBL)
NOx Analizer – SARTEC 200A
O3 Analizer – API 400A
Meteo Station – LSI/LASTEM
Rain gauge – Wet&Dry
Sequential sampler – Sequair 927A
Box for Denuders – ADS7
 Station Instrumental equipment
The equipment comprehend PM10/PM2,5 samplers, gas phase mercury analizer, a station for nano-particles evaluation, an area equipped for monitoring campaigns, a metereological station.
Equipded area and ADS7 samplers detail:
PM Sampler – Hydra (PM10/PM2.5)
2 Sequential sample TECORA Skypost PM
Gas phase mercury analizer TEKRAN
Scanning Mobility Particle Sizer – SMPS equipped with a double column DMA (4-600nm)
2 – Condensation Particle Counter – CPC
Nanometer Aerosol Sampler – NAS
Meteo station – T, RH, p, wind speed and direction, solar radiation, wet deposition
Aeronet Station
High Altitude Monitoring Station
The hight altitude station (1379m asl) is situated near the village of Longobucco in the Sila Massif between the Thyrrenian and Ionian seas (Lat 39° 23′ 39,05 " Lon 16° 36′ 48,74″). It is a fenced in Portacabin type structure of roughly 26 sq. metres. The fence is necessary as the surrounding area is used as seasonal pasture. There is enough space for a number of fixed analytical lines as well as for non-permanent instrumentation, for example for intercomparisons or for intensive measurement campaigns.
The station also has a data acquisition system which allows data to be transmitted to the Rende section in real time, as well as a video surveillance system.
Instrumental equipment
 Parametri
 Strumentazione
 Modello
 O3
Ozone Analyser
API400
 CO
Carbon Monoxide Analyser
API 300E
 CO2
Carbon Dioxide Analyser
API 360E
 NOx
 Analizzatore Ossidi di Azoto
 API 200AU
 SO2
 Nitrogen Dioxide Analysiser
API100E
 PM10/PM2.5
Sulphur Dioxide Analyser
 HYDRA
 Hg0, RGM, Hg(p)

Tekran

Tekran

Tekran

Model 2537 A fully accessorised

Model 1130

Model 1135

 Zero Air Generator
 API701
 Calibration Unit
 API700
 Dataloger
ECOREMOTE/
ECOMANAGER
mm of rain, pH, conductivity, sampling and sample preservation
Analyser/Sampler
Wet Deposition
 MTX-ARS3100
Wet Deposition
wind sped and
direction, relative humidity, external temperature, atmospheric pressure,
global radiation
Atmospheric Station
LASTEM
Measurement programme
The table below shows the measurements, the methods used and their frequency and their relationship to the three levels of the EMEP programme. The measurement program at the marine station as  well as supporting EMEP also supports the Global Atmospheric Watch (GAW), and the IGBP core projects SOLAS and IGAC.
Programme

Parameters

Time Resolution

Methodology

EMEP Level-1 programme
Inorganic compounds in Precipitation

SO4– ,N03-, NH4+, H+ (pH), Na+, K+, Ca++, Mg++, C1-

 daily

 Wet-only IC/AES/AAS

Heavy metals in precipitation

 Cd, Pb, Cu, Zn, As, Cr, Ni

 weekly

 ICP-MS

Inorganic compounds in air

S02, SO4–, N03-, HN03, NH4+, NH3, (sN03, sNH4), HCI,Na+, K+, Ca++, Mg++

daily

 FP-filter pack IC/AES/AAS

NO2
in air

NO2

daily

 (Na I) Method

O3 in air

O3

hourly

 UV-abs LVS-PM10

PM mass in air

PM2.5 PM10

daily

 HVS-PM10

Gas particle ratios

NH3,NH4+, HC1 HNO3-, (with filter pack sampling)

monthly

 Low cost

Meteorology

Precip. (RR), T, WD, WS, rh, pr

hourly

 AWS

EMEP Level-2 programme

Photochemical oxidants
NOx

NO, NO2

hourly

 Monitor

Light hydrocarbons

C2-C7

hourly

 Monitor of Canister/GC

Carbonyls

aldehydes and ketones

8 hourly twice a week

 silica cartridges/ HPLC

Heavy metals
Hg in precipitation

Hg (total)

weekly

Wet-only
CV-AFS

Hg in air

Total Gaseous Mercury (TGM)

hourly

CV-AFS/Tekrans 2537A

Heavy metals in air

Cd, Pb, Cu, Zn, As, Cr, Ni

daily

 ICP-MS

Particulate matter
Major inorganics in both PM2.5 and PM10

SO4– ,N03-, NH4+, NA + , K+, Ca++, Mg+, C1-

daily

 Manual denuders /continuous monitors XRF

Mineral dust in PM10

 Si

daily

Manual denuders /continuous monitors XRF

Elemental carbon (EC)

 EC, OC

daily

 Thermo-optical

Organic carbon (OC)

EC, OC

daily

 Thermo-optical

EMEP Level-3 programme
Hg species

 Hg°, Hg ++ , Hg(p)

20 min / 6hr / 6hr

CV-AFS/Tekrans
2537A / 1130 / 1135